Hidden away in some Wisconsin dairy barns is an impressive collection of International Harvester tractors. They are part of a collection owned by brothers Ken and Dick Huber, two retired dairy farmers who accumulated it over decades.
So how does someone accumulate a collection like Ken and Dick's? For Ken it started with a Huber tractor because it had the family name on it. From there it just grew.
"Then I had a friend that told me the Super MTA's are starting to be a collector item. So I bought a Super MTA as my first International collector tractor. When I got to collecting tractors, I wanted to get one of each of the series that they made, whether it was a utility, high utility, a gas, diesel, lp and so that's kind of how I went about it. So, I started out trying to get a series of SMTA, the Super MTA diesel, SMTA gas, SMTA LP and MTA distillate," Ken said.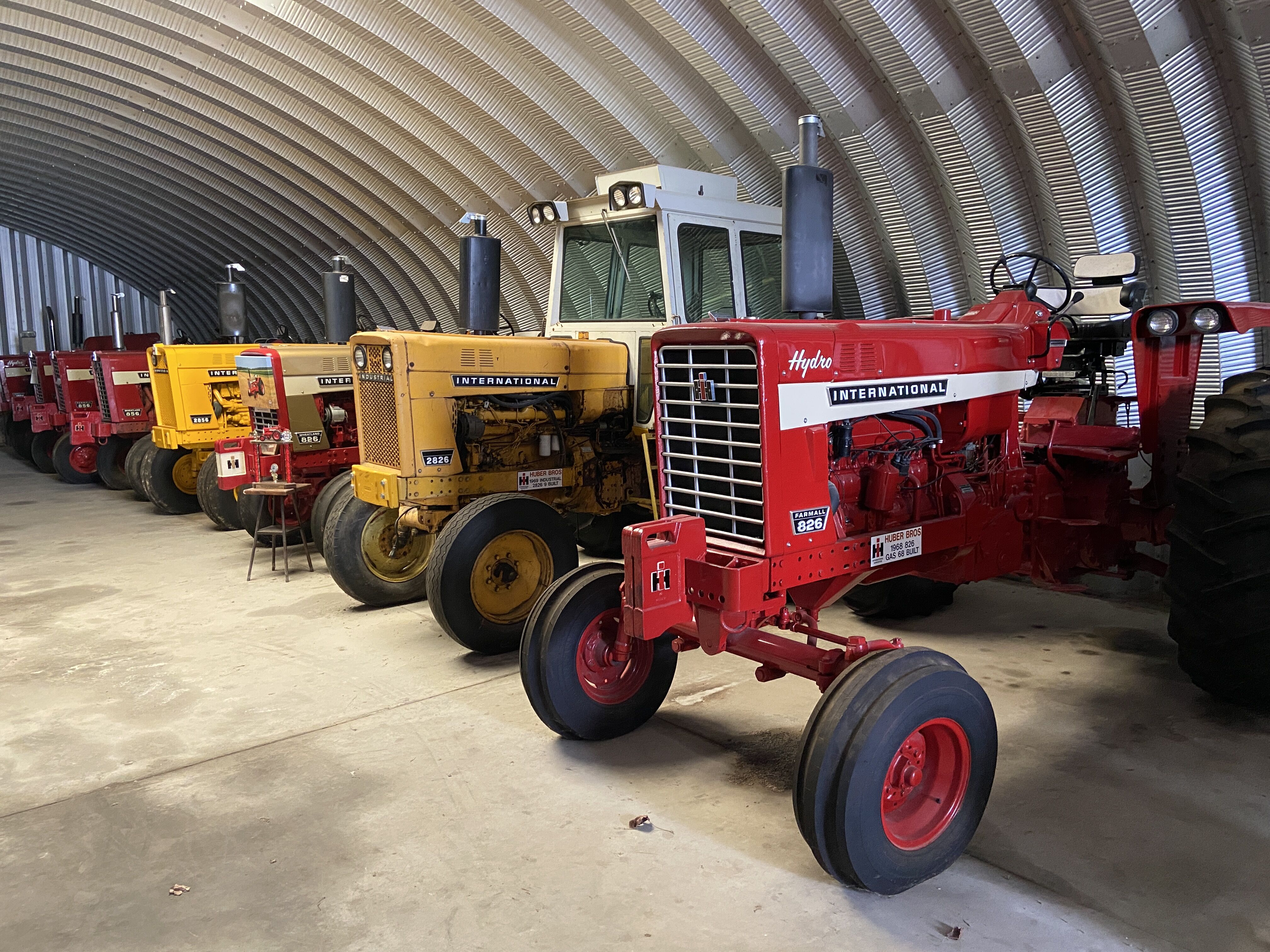 After the SMTAs the Brothers continued to collect the entire series of International models which resulted in them owning some very rare examples like an International 2826 Industrial Diesel, 1 of 9 built; an International 826 Wheatland Gold Demonstrator Diesel, 1 of 4 known; a Farmall Super M Hi Clear LP, approximately 1 of 10 built; an International 1026 Wheatland Diesel 1 of 13 known, and the list goes on.
Finding all these different variations meant the Brothers had to travel.
"So I ended up doing a little traveling...I went to Erie, Pennsylvania for one. I went to Central Alabama, over South of Little Rock, Arkansa. My brother took a brand new truck with only a few miles on it to Mount Hood, Oregon. And I had a friend in Kansas that we would trade tractors back and forth," Ken said.
Ken's passion for classics runs so deep, he traveled 750 miles just to get an original rubber tire for a tractor.
"I had a tractor that had a tire that was like new and the other one was really worn out. It was a Firestone, Field & Road, those were original tires on the tractor. I saw one on the internet, that kind of looked like the one I had, so I drove 100 miles east of Pittsburgh. When I got there I found it was the one I wanted, so I bought it and put it on the tractor," Ken said.
Over the years the collection continued to grow and the space to store them kept shrinking.
"We got rid of the cows when I turned 69. I needed more room for tractors, is what it really was. We converted a steer shed and dry cow shed into storage for tractors. It just kept going with more and more room I needed to house them all," Ken said.
Earlier this year Ken and Dick met with Kurt Aumann about selling their expansive collection.
"My brother Don had him [do his auction] about 3 years ago. Knowing the ability Kurt has to find potential buyers, and the advertising that he does, it was an easy call for me to give the business to Aumann Auctions," Ken said.
Dick and Ken plan on selling almost everything from their collection, except one tractor.
"We want to keep one of our Huber tractors that is all painted up. Because I have a nephew who would like to live on the farm. Our farm has been in the family since 1852. He plans to live here after he retires," Ken said.
Ken said it's time to let the collection go, but there is one piece he might struggle with letting go.
"I've got a 1975 International 200 pickup truck that only has 29,000 miles on it. I used that truck when I brought the wife from our wedding to where the wedding reception was with a gathering of our friends."
The interior of this truck is like new. It was owned by an International Harvester dealer who just drove it back and forth to work, so he just put only a few miles on it.
In the summer of 2022 the Brothers will let approximately 175 restored tractors go to auction. There's numerous International Golden Demonstrators, industrials, low production high crops and wheatlands. There are many variations in which "less than 20" production tractors were built. For more information and updates checkout AumannVintagePower.com.
For complete online listing of all the tractors see links below:
Auction Day #1 Tractors: https://bid.aumannauctions.com/auctions/catalog/id/32102/
Auction Day #2 Tractors: https://bid.aumannauctions.com/auctions/catalog/id/32104/
by Dan Boomgarden 2022