Virgil & Phyllis Litke Collection
Live Auction Starting at 10AM on Both Days!
One of the last remaining, down on the farm, early collector auctions! HUGE collection of nearly everything and anything farm related!
Note Mapquest Users - Note that the location is Southwest of Marion, KS. Some users have noted that it leads you too far North of the property.
Direction Update Due to Road Construction
See Pictures Below: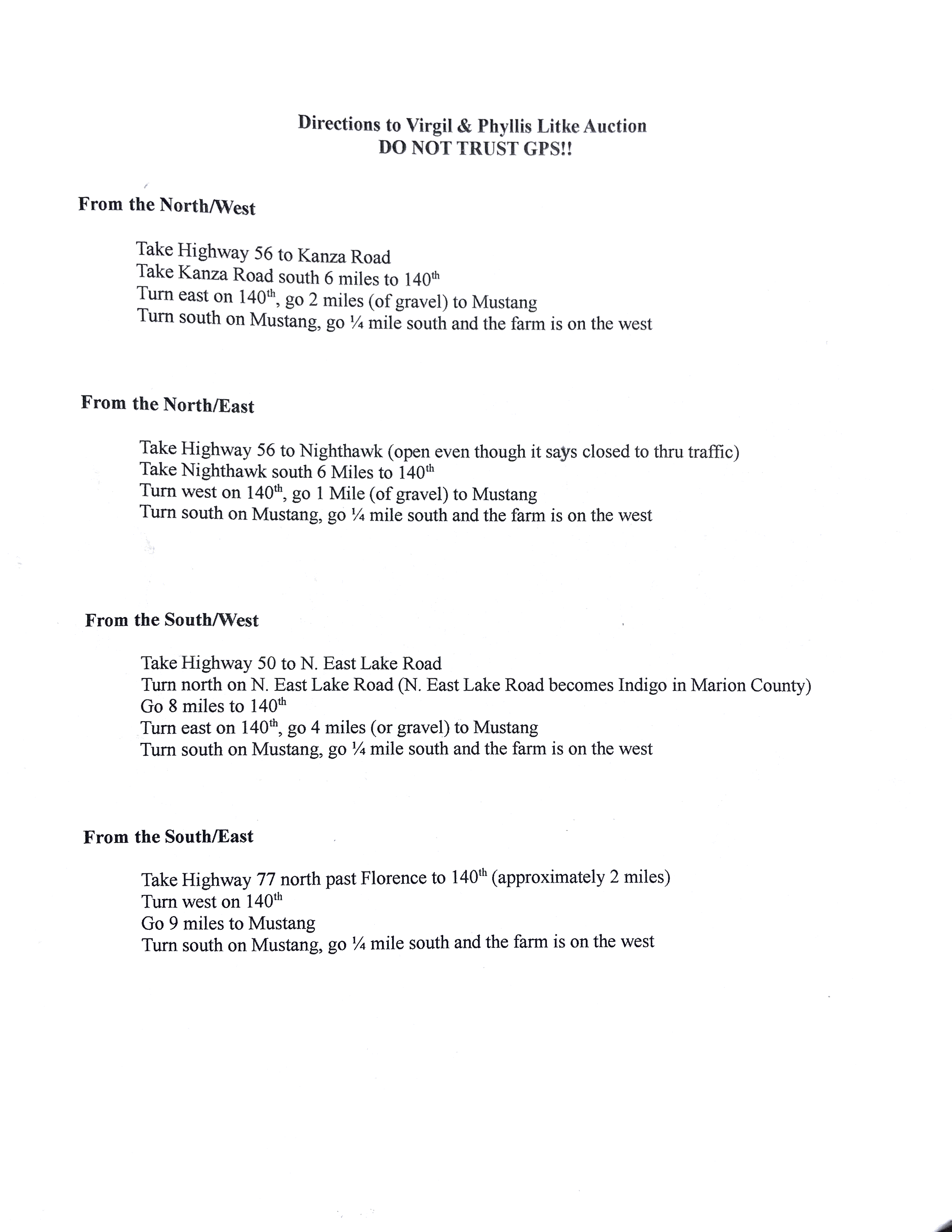 Friday Auction Features
Over 150 Cast Iron Seats; Farm Primitives; Water Pumps; Wrenches; Hay Trollies; Post Mount Drill Presses; Blacksmith Forges and Equipment; Gas pumps; Complete Windmills; Cast Iron Cookware; Cream Separators; Horse Drawn Implements; and so much more!! Thousands of items!
Saturday Auction Features
Emerson Brantingham Big 4 20 with mounted plow and plow guide; Beautiful Original Big Bull; Rumely 20-40 G; International 10-20; Huber Light Four; Heider 9-16; Heider 12-20; Allis Chalmers Model E; Crossmotor Cases; Rumely 20-40; IHC 8-16 Mogul; Moline Universals; 12-24 Hart Parr; Gray Drum Drive; 17-30 Minneapolis Threshing Tractor; Experimental Avery 20 hp Steam Engine; Massey Harris 4 wheel drive; Caterpillar Thirty… Too many to list!
Automobiles
Chevrolet Fleetline Coupe; Ford Model T; Ford Pickup; Ford 4 Door Sedan; Dodge 4 Door Sedan; Ford 500 Galaxy
Large selection early tractor parts and other farm equipment!
PLEASE READ AND REVIEW THE TERMS THOROUGHLY PRIOR TO BIDDING
IF YOU HAVE NOT READ AND UNDERSTAND THESE TERMS – PLEASE DO NOT BID

BY BIDDING ON THIS AUCTION, BUYER AGREES TO ALL TERMS AND CONDITIONS SET FORTH AND ENTERS INTO A CONTRACTUAL AGREEMENT TO PURCHASE THE ITEM(S) UNDER THE FOLLOWING TERMS AND CONDITIONS:
1. CATALOG: Aumann Auctions has put forth every effort in preparing the catalog for this auction to provide accurate descriptions of all items. All lots are sold AS-IS, WHERE-IS, with all faults, imperfections and errors of description. Due diligence is the responsibility of the bidder/buyer. Printed statements or descriptions by staff are provided in good faith and are matters of opinion.
2. PAYMENTS: All invoices/purchases are subject to the 5% buyer's premium on tractors and 10% for all other items on the auction.
All sales are final. No credit card charge backs will be allowed. All accounts must be settled at the conclusion of the auction. We accept Visa & MasterCard ONLY. NOTHING will be charged to your card until a purchase is made.
ONSITE BIDDER PAYMENT: There is a 5% fee on top of your purchase price and any applicable buyer's premium if you choose to pay by Visa or Mastercard Credit Card/Debit Card. Cash & Check are also acceptable methods of payments for onsite auction purchases.
3. DEFAULT OF BUYER: Successful bidder not paying for items within 3 days of the date of the auction will be considered in default. Such default by the Successful Bidder will result in that Bidder's liability to both the Seller and Aumann Auctions, Inc. Seller shall have the right to (a) declare this contractual agreement cancelled and recover full damage for its breach, (b) to elect to affirm this contractual agreement and enforce its specific performance or (c) Seller can resell the items either publicly or privately with Aumann Auctions, Inc. and in such an event, the Buyer shall be liable for payment of any deficiency realized from the second sale plus all costs, including, but not limited to the holding/transporting/storage costs of the items, the expenses of both sales, legal and incidental damages of both the Seller and Aumann Auctions, Inc.
In addition, Aumann Auctions, Inc. also reserves the right to recover any damages separately from the breach of the Buyer. The purchaser agrees to pay all reasonable attorney fees and costs incurred by Aumann Auctions, Inc. in the collection of funds. The purchaser also agrees that a storage/handling fee of 5% per month be added to the balance of any unpaid balance due Aumann Auctions, Inc. and any other costs or losses incurred by the Buyer's failure to adhere to these terms. Any debt collection or dispute proceedings will be litigated or arbitrated in Montgomery County, Illinois at the option of both the Seller and Aumann Auctions, Inc.
Both the Successful Bidder and Seller shall indemnify Aumann Auction, Inc. for and hold harmless Aumann Auctions, Inc. from any costs, losses, liabilities, or expenses, including attorney fees resulting from Aumann Auctions, Inc. being named as a party to any legal action resulting from either Bidders or Sellers failure to fulfill any obligations and undertakings as set forth in this contractual agreement.



A. BIDDER VERIFICATION: Bidding rights are provisional, and if identity verification is questionable, Aumann Auctions, Inc. has the right to reject the registration, and bidding activity will be terminated. The Seller and Aumann Auctions, Inc. reserve the right to preclude any person from bidding if there is any question as to the person's credentials, mental fitness, etc. Bidders agree to keep their username and password confidential as they are responsible for ANY and ALL activity involving their account. If the registered bidder's user name is offensive to Aumann Auctions, Inc. or in their sole opinion detrimental to Bidding Activity, then Aumann Auctions, Inc. reserves the right to delete the bidder from bidding or unilaterally change the username with notification to the Bidder. When using the web site you must obey any and all local state and federal laws. Violations will result in termination of web site use privileges.

B. MAXIMUM BID: When you bid your maximum bid, the current bid price does not automatically advance to your maximum bid. Another bidder has to bid to increase the current price and the computer will automatically bid up to your maximum in the increments specified.

C. TECHNICAL ISSUES: In the event there are technical difficulties related to the server, software, internet or any other online auction-related technologies, Aumann Auctions, Inc. reserve the right to extend bidding, continue the bidding, or close the bidding. Neither the company providing the software, nor Aumann Auctions, Inc. shall be held responsible for a missed bid or the failure of the software to function properly for any reason.

D. CONDUCT OF THE AUCTION: Conduct of the auction and increments of bidding are at the direction and discretion of Aumann Auctions, Inc. Aumann Auctions, Inc. reserves the right to reject any and all bids for any reason and also reserves the right to cancel this auction, or remove any item or lot from this auction prior to the close of bidding. All decisions of Aumann Auctions are final.
Your bid on this auction indicates both an understanding and an acceptance of the terms of this contractual agreement between you, as the Bidder, and both Aumann Auctions, Inc. and the Seller. Your bid further indicates that you, as the Bidder, are prepared to purchase items under these terms and conditions.

SELLER(S): Virgil & Phyllis Litke, 1373 Mustang, Marion KS